Search
104 result(s) matching "session", (0.28 seconds)
Lost Session, again.
Opening Vivaldi too fast after closing opens new clean window, and current session is lost.
No way of restoring it, even though it is stored in file named Last Session. WHY???
Good i got used to this browser and saved it from time to time but I think that if it happens 2 or 3 more times I'm gonna say goodbye to it.
"Startup with..." Last session
I am trying to set this setting. I can select the radio button but the change is not saved. It is always restored to the default setting.
Vivaldi ver: 1.12.955.48 (Stable channel) (32-bit)
Restore last session
Probably had two browser windows open and first closed the one with many tabs ... I have the following large files in the Default folder:
Last Session
Last Tabs
Session Storage/014330.ldb
Session Storage/MANIFEST-000001
Is it possible to restore from any of those the window session with many tabs?
Tabs/Last Session lost
Opened V this AM only to find my last session and pinned tabs gone. I have V set to open "last session".
I have also been getting a lot of "black screens" lately.
Don't know about anyone else but I like calling Vivaldi "V". Affectionately of course.
Reload last session fails
Hi,
Closing and reopening Vivaldi it fails retrieving last session.
It starts Start page instead.
I've set to "Last session" in Startup Settings tab without success.
What tot do?
Start with last session or homepage
Yesterday, I thought my problem was pinned tabs being lost, but I was wrong. The problem was the last session not being restored, in fact, all sessions were wiped out after an update. I reset everything back up and saved the session.
Later yesterday, there was another update. After updating, all was fine. This morning, all was gone again.
It should start with the last session. If that does not happen, it should open my homepage. It did not do any of those when I opened it this morning. Instead, the Start Page opened. I closed and reopened and still, it opened the start page.
Anyone have any ideas, I am getting a bit frustrated with updates.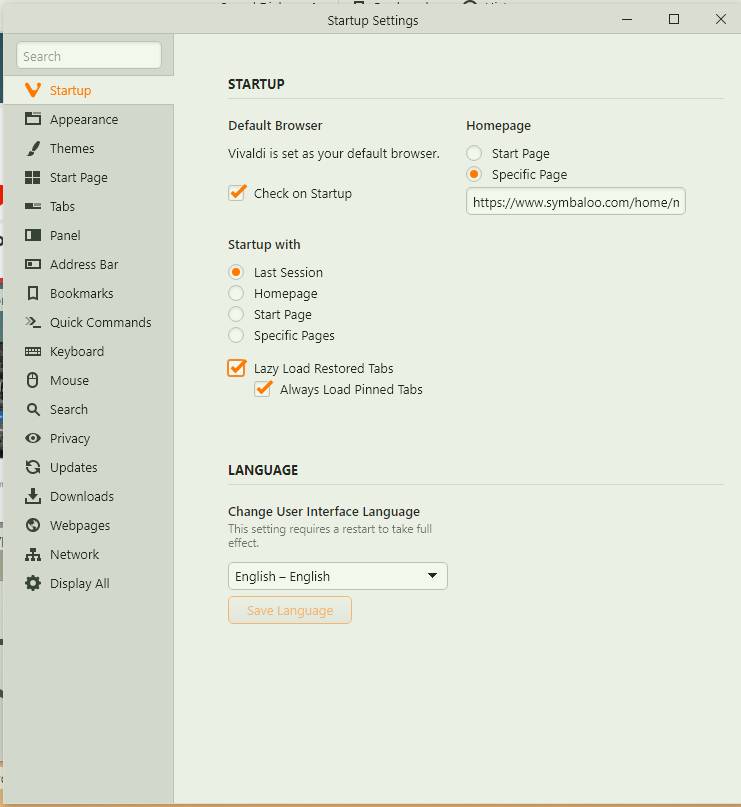 Startup with Last Session not working
Hello,
I updated vivaldi to the latest version (1.13.1008.44) last night and now the startup with last session feature won't work. When I close the browser and open it again it just opens up to the speed dial instead of the last session as specified in my settings, I have to keep going through my history to figure out which tabs I had open before.
This is the first time this happens so I'm guessing it has something to do with the update. Is there a fix for this? If not, can I downgrade the browser to the previous version?
Thanks.
Vivaldi Won't Restore Last Session
I'm using Vivaldi 1.13.1008.40 64 Bit. On Windows 10.
In Settings, I have it set to restore the last session at startup, but I always just get the start page. Every time I start Vivaldi anymore, I have to click the little trashcan in the top rights and manually restore my "Window with 17 Tabs".
I don't have any other sessions open, and this problem was present in the 32 Bit version (I literally just switched to 64 to see if it would fix the issue) and the last several versions (I think back to Vivaldi 1.8 when I first started using it). I've rebuilt my computer a few times, and whenever I install Vivaldi for the first time, it restores the session just fine for a while, then eventually breaks.
Is anyone else having this issue? Are the devs aware? Is there a fix?
Tabs not saved for next session
Have box checked to start from last session, what happened to all the tabs being saved from last session , that should be default and now it doesn't work on latest update